Hurricane Update: Cuba, Martinique, Puerto Rico – Sept. 25, 2017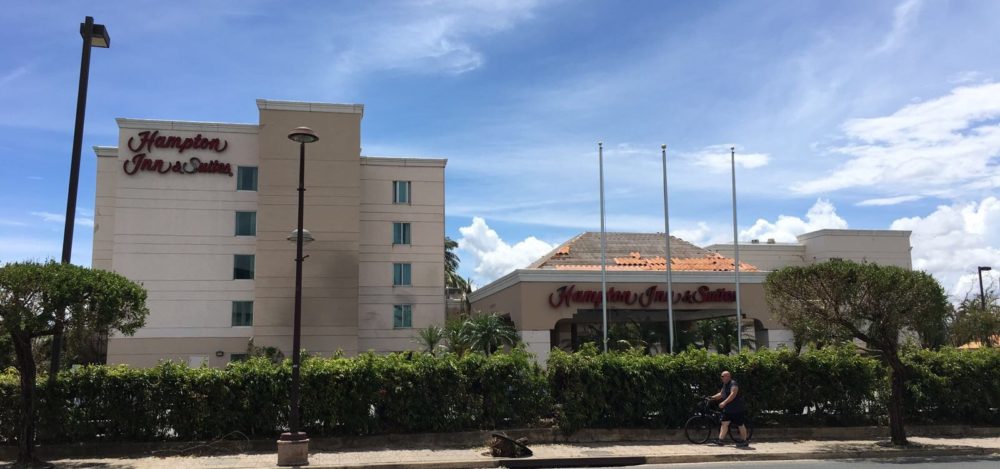 September 25, 2017
Above picture was taken today 9.25.17 of Hampton Inn in San Juan.
This month three of our main destinations suffered from two of the largest hurricanes ever recorded in the Caribbean. Our top priority in leading tours is the safety and well-being of our travelers. Below is a summary on each island:
Cuba & Irma
Hurricane Irma made landfall in the northern part of the island on September 8 and 9, 2017. Winds of up to 160 miles/hour were felt in the northeastern and central regions. In spite of causing flooding and power outages in Havana, the city was largely spared as the storm veered north before reaching it. Thankfully, members of our staff and Cuban family are well.
The island suffered structural and agricultural damage, temporary flooding, and power outages. The US Dept. of State suggests travelers avoid the north central region until further notice. Fortunately, the Department confirms that main roads are now open; it also states that power and water have been restored to most of Havana. The main airports and ports are now fully functional. Cruise ships have begun their operations.
Moving forward – Vamonos will fully resume our Cuba tours beginning in October 6, 2017. We plan to concentrate on areas fully operational and recovered, such as: Cienfuegos, Havana, Trinidad, Viñales, and central/southern Matanzas. We'd love to devote tour service-learning projects in as much as possible to hurricane relief efforts.
Martinique & Maria
Hurricane Maria passed slightly north of Martinique on September 18, 2017. Luckily, the island escaped the brunt of the storm and suffered very little damage other than downed trees and temporary flooding, and some power outages. The main airport opened the next day. Hotels and tourist attractions are already fully operational. Our local tour manager and her family are well and ready to work.
Moving forward – Vamonos will fully resume our Martinique tours beginning in September 27, 2017. We'd love to help underprivileged communities recover from minor hurricane damage as part of our service options.
Puerto Rico & Irma
The eye of hurricane Irma passed north of Puerto Rico on September 6, 2017. The island suffered some structural damage due to tropical storm winds, temporary flooding, and power outages to half of the population. Puerto Rico suffered little damage. Within 2-3 days, the island was fully operational and had become a shelter for many British and US Virgin Island citizens.
Puerto Rico & Maria
Hurricane Maria made direct landfall in Puerto Rico on September 20, 2017 as a category 4 hurricane. It was the strongest hurricane to hit the island since 1928. Winds of up to 155 miles/hour were felt. The hurricane caused serious communication, structural, tree, and flooding damage.
Currently, the island is vastly without power and some areas remain flooded. Help from US hurricane relief agencies, such as FEMA, National Guard, Coast Guard, city of New York, US Government, and many more, has been overwhelming. The main goals of recovery are saving lives, restore all communications, clearing roads, and reestablishing power to the island.
As of today, the airport and main ports have already opened. Thankfully, we've heard from 90% of our Puerto Rico staff. All are well and busy helping their communities recover. Our coach buses didn't suffer lasting damages.
Moving forward – Vamonos will fully resume our Puerto Rico tours beginning in November 8, 2017. We are currently visiting our hotel properties to make sure they are fully operational, safe, with power, and drinking water. Vamonos will not put any travelers in a hotel that does not meet these requirements. We will prioritize as usual the safety and well-being of our groups. We don't foresee the need for any changes or cancellations.
If you're planning on visiting Puerto Rico or have a tour booked already, we're here to keep you informed
The safety and security of everyone on our tours on the island is our top priority in the aftermath of Hurricane Maria. We are working with our industry partners to assess the impact and will continue to provide updates as they become available.  For current updates please see us on Facebook or Instagram.
Given the serious need to recover from such a storm, we plan to focus most of our service-learning projects to hurricane relief efforts. In addition, we'll soon open a private Vamonos Service Locations, Staff, Families' Fund. This fund will be fully managed by us. 100% of proceeds will go to hurricane relief efforts such as home repairs, damage to orphanages and rural schools, and areas of greatest need.
---
We appreciate your concern for our beloved Caribbean destinations, for your willingness to donate, and for your desire to add hurricane relief service to your upcoming tours. As stated previously, we anticipate that airports, hotels, electricity, and itinerary places will be safely restored and operational by the start of our 2018 season.
Kind regards,
Jorge Pardo
President & CEO, Vámonos Tours Inc. / Vámonos Puerto Rico Inc.
---
Related Articles
---