C'EST LE FUN TOUR: 7 days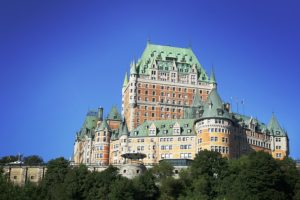 HIGHLIGHTS:
Circus School
Guided Walking tour of Montréal & Québec
Plains of Abraham Museum Activities – Military
Guided Tour of Château Frontenac
Guided walking tour Québec City
Cooking class
Civilization Museum
Sugar Shack
Dog Sledding, Ice Hotel  (Jan to March only)
Guided Walking tour of Montréal
Guided Tour of Notre Dame Basilica
Visit of Pointe à Callière Museum (Archeology Museum)
Au Sommet Observatory
Ice Skating in the Old Port  (Mid December to Mid-March)

---

DAY 1: MONTRÉAL

Admire the spectacular interior of Notre-Dame Basilica. Take a walking tour of Vieux-Montréal and explore Place Jacques-Cartier and St- Paul Street

DAY 2: MONTRÉAL

Participate in community service in Montréal by helping Moisson Montreal collect non-perishable food and goods for people in need. You'll sort and help distribute the goods in groups. Spend some time at the Jean-Talon Market, enjoy the colors, aromas & sounds of Montréal's biggest market. Discover the impressive McGill University campus with the help of your Tour Director Take in the view of Montréal from the Kondiaronk Belvedere Lookout on Mount Royal.

DAY 3: MONTRÉAL/ QUÉBEC CITY

Board your motor coach and continue on to Québec City. Guided walking tour; Share the secrets of Old Québec as you journey through St-Louis and St-Jean Streets. At the Plains of Abraham Museum partake in The Soldiers of the Martello Tower; Learn about daily life of a soldier of the 1812 Battle in Québec.

DAY 4: QUÉBEC CITY

Breakfast at Le Parlementaire, the restaurant of the Québec Parliament. With quiz sheet in hand and your own digital camera, set off in teams on a photo scavenger hunt through Vieux Québec. In the company of a period costumed guide, visit the iconic Château Frontenac to learn all about the historical events and famous people that shaped the identity of the hotel. Built over 200 years ago as the city's first prison, the Morrin Centre now also houses one of the world's most beautiful libraries. You will discover a hidden, dark and almost unknown part of the city's history by exploring the buildings' past.Enjoy an authentic savory crêpe for dinner .

DAY 5: QUÉBEC CITY

At Parc de la Chute Montmorency, walk over the suspended bridge, and take the 487 steps for a different view of the falls which are higher than those of Niagara Falls. Enjoy a guided tour of the Ste-Anne de Beaupré Basilica.
Stop at Atelier Paré to listen to Québecois folk tales and follow the story on a carved wooden mural depicting the events. With the visit of Wendake Museum learn about Huron-Wendat history and customs. Then listen to the myths and legends of the community, told by a local storyteller! Live the Québecois tradition of "sugaring off" at a local sugar shack!

DAY 6: QUÉBEC CITY

Enter the Musée de la Civilisation; located in Québec's Old Port, with over 10 exhibits at all times including a permanent exhibit of Québec. Wander through the enchanting Quartier Petit Champlain, the oldest shopping district in North America. Discover the Marché du Vieux Port, Québec City's local market. Be immersed in modern circus techniques at the École de Cirque de Québec; under the supervision of qualified instructors try a wide variety of circus equipment & activities.

DAY 7: QUÉBEC CITY/ HOME

Say a fond au revoir to your Tour Director. Board your private motor coach and make your way home.
---
STARTING AT: $2125*
*Price estimate based on minimum of 30 paying travelers departing from CLT airport