San Sebastián Festival

January 18, 2017
The San Sebastián Festival might be one of the most celebrated and crowded festivals on the entire island. It takes place all over the old city (not just at Calle San Sebastián) on the second or third week of January every year. Approximately 500,000 people are present in this cultural event. It lasts four days from Thursday to Sunday.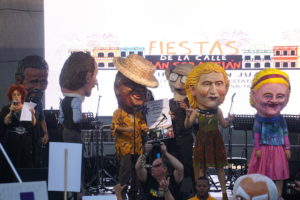 One of the richest aspects of the San Sebastián Festival is its unique collection of authentic Puerto Rican art sold by artists. People from all over the island flock to the city to find great bargains on authentic handmade arts and crafts. In addition to the cultural and artistic aspect of the festival,  there are numerous family events, great food, and live shows in the evening.
Tips for Enjoying the Festival
1. Good walking shoes – Use the most comfortable tennis shoes you have, since you are going to be walking a lot up and down. Also expect to dance to crowd chants of "Voy subiendo, voy bajando" which will also put stress on your shoes.
2. Bring cash – During the San Sebastián Festival, many bars, local artisan shops, and food kiosks will take CASH ONLY. Expect to wait in line for many minutes if you attempt to withdraw money at an ATM. We strongly suggest you visit your local ATMs before coming to Old San Juan.
3. Transportation – If you are not lucky enough to live in the old city, most people park at the Sagrado Corazón train station in Santurce and take a free shuttle to Old San Juan. Another idea is to take a private taxi thus avoiding loud crowds and perhaps drunk people along the way. Do not attempt to drive to the old city. Only residents and business owners have access through a special municipal permit.
Best Time To Go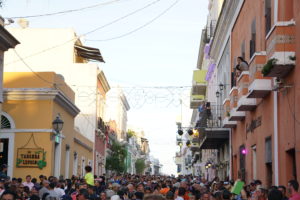 Go during the day! This is the best time to see, purchase, eat, and enjoy the San Sebastián Festival without feeling claustrophobic, especially in Calle San Sebastián. Best times: between 9:00 AM and 6:00 PM. The party will finish at 12:00 am on Saturday and on Sunday at 10:00 pm. Only hotels are allowed to remain open. Many after-parties and activities are held later outside San Juan.
What To Expect Each Day
Thursday: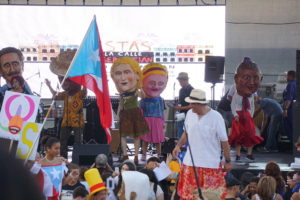 The San Sebastián Festival officially starts at 5:00 PM on the east side of Calle San Sebastián next to Abraham Lincoln Public School. It starts with a concert and the "Cabezudos" (large iconic festival heads resembling well known local personalities related to the community of San Juan, Puerto Rico, or the government) show. Most people who show up on this evening are adults, college students and professionals. It is the best day if you want to go out, shop, eat and have a drink with friends at local food stands and kiosks. It is not so crowded since people have to work the next day.
Some of the bars still allow customers to come in, but the majority of the bars and restaurants won't allow customers in and charge for the use of bathrooms. They all sell food and drinks at their gates or windows facing the streets.
Friday: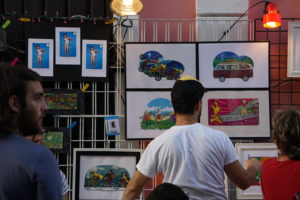 This is a popular day for people of all ages. It's quite calm during the morning, ideal for doing shopping and exploring Old San Juan. Before 4:00 pm many residents come in groups from all over the island to experience this magnificent festival with the real Puerto Rican culture. Expect to see adults looking for street art and enjoying a beer while they shop.
For those interested in purchasing art and wanting to purchase prime handmade products, visit Cuartel de Ballajá, and enjoy hundreds of artisans selling their best pieces. It is the largest handmade and handcraft expo on the island, have fun!
Many groups will be singing traditional Plena songs. Join one of these groups and use it as a way to travel through the crowd. In the past two years the festival has considerably improved. The mayor has opened the largest plazas with stages for different musical groups to spread more people around the city instead of having people concentrate on San Sebastian Street. Also, only traditional Puerto Rican instruments are allowed!
Saturday:
This is the most popular day for everyone to come early and enjoy the variety of music throughout the old seven by seven block city. We recommend you stay hydrated, especially on hot days, since you will be doing a lot of walking.
In the past there have been limited options for breakfast. Restaurants tend to open  late in the morning due to their busy nights. It is better to catch restaurants and kiosks around 11:00 am when they first start serving food. Try Fatties Restaurant, El Jibarito, or El Callejón since these are kind of hidden in the residential areas.
Music performances from top national and international singers are held in Plaza Quinto Centenario.
Later in the afternoon is a great time to visit the artisans and vendors to find a bargain. Most of them want to sell all their pieces left that day and not open the next day. People come from all over to visit their favorite artisan each year and purchase a new art piece. You can find calligraphy, sculptures, paintings, tobacco, clothing, etc.
Sunday:
This is most family friendly day to attend the San Sebastián Festival. A great number of participants are families who get together as a Sunday activity. Sunday is also a good day if you are planning to visit the forts as well or take a tour.
While shopping at kiosks you can always bargain. In many of them you don't pay taxes, therefore it is a great incentive for buyers to support local art. We recommend you arrive early since most vendors tend to leave between 5:00 and 7:00 pm, and municipal staff begin cleaning the streets.
Explore the city and partake in cabezudos processions and take a selfie with them, especially with the original cabezudos "Diplo," "Juan Bobo," "La Puerca," etc., or sing along with the traditional songs that you will repeatedly hear everyone signing.
---
Related Articles
---