José Feliciano, José González, and… Nery Toro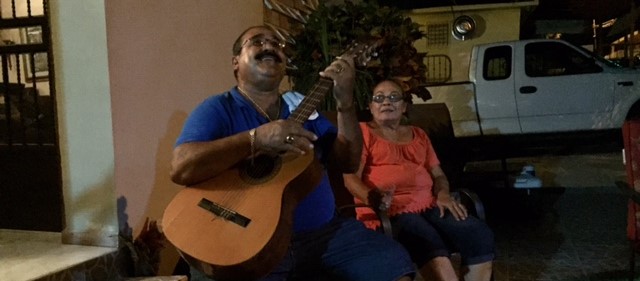 April 21, 2017
What do all three men have in common? Give up? All three play the acoustic guitar and sing! We may not have Mr. Feliciano or Mr. González, but we do have our own Nery Toro!
Nery is one of our assistant tour directors. If you have been on one of our tours you may have seen him driving his "guagua" behind the coach bus.  He works behind the scenes to make sure every tour he is part of runs smoothly. From filling water coolers, to ensuring group safety, to taking an injured traveler to the hospital, He keeps Vámonos groups going.
Recently the entire Vamonos Staff had an opportunity to visit Nery at his home in Puerto Rico. We enjoyed a delicious culinary experience thanks to his wife and Nery's cooking skills. The menu included the world's best "tostones de pana" as well as rice and beans, chicken, and so much more. Before dinner, we found out about one of his hobbies: singing and playing the guitar. We made him sing and play for us after dinner. And wow, we were impressed! Below is a video of his impromptu performance.
Some more little known facts about Nery:
He is a retired police sergeant who served with the local police force for over 30 years.
Everywhere he goes, he either knows someone or meets someone on the street. Nery knows everybody!
He has 4 children who live either in Puerto Rico or in the US.
Nery loves to travel. He visits his daughter often and loves to stop by the Niagara Falls.
​He is a crazy baseball fan who even plays on a senior travel team for Lajas when he isn't on tour.
One of his sons also plays semi-professional baseball.
He raises goats and sheep.
Nery is very sentimental andloves all of our travelers and is often seen shedding tears at the airport as he waves goodbye to a group.
He is an expert repairing weed trimmers and has a workshop set up behind his house.
He is also an avid Latino dancer whose skills are impressive.
---
Related Articles
---