Holiday Traditions of Puerto Rico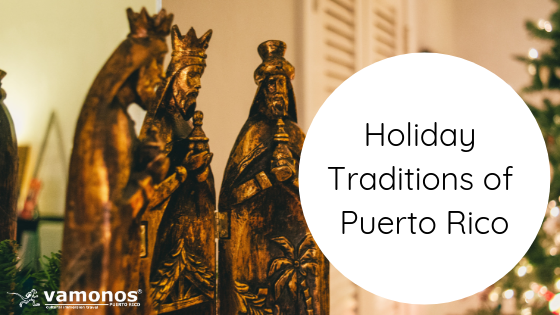 December 7, 2018
Puerto Rico is able to transform into every tourist's ideal location at any time of the year. One of the greatest times of the year to visit the island is during the holiday season. Accompanied by a breezy 75-85°F weather, no place has a longer and more diverse holiday season than we do in Puerto Rico. Check out these facts:
A THREE MONTH SEASON
Before Thanksgiving, the decorations start to go up! That is the general rule of Puerto Rico's holiday decor. Some businesses are widely known for having Christmas decorations all year round and Christmas trees displayed throughout in preparation for the next season to come.
The holiday season ends in January. This month starts off with the Three Kings Day and ends with the Octavitas, the eight days after the Three Kings Day. Visitors extending their stay enjoy the massive cultural and musical events associated with Las Fiestas de la Calle San Sebastián which takes place in mid-January.
HOLIDAY PARTIES
In cold weather, bundling up and going house to house and singing Christmas Carols is a tradition for some. The Puerto Rican version of this is a  parranda. These parrandas occur throughout Christmas and in particular on Nochebuena, also known as Christmas Eve. Latino versions of Christmas carols can last until sunrise with live music, food, and traditional Spanish Christmas songs.
FOOD
The holiday menu in Puerto Rico includes the staple of arroz con gandules, which is rice and green pigeon peas. This is accompanied with pernil,which is roasted pork, and pasteles, which are our version of tamales made up of green bananas, usually filled with pork. For dessert, there are guava pastries and flan, a custard dessert.
DRINKS
Hot cocoa and apple cider are the winter classics to combat the cold weather. In Puerto Rico we consume coquito, a coconut drink served cold and topped with cinnamon sticks. This drink is iconic to Puerto Rico and around the globe many have tried to replicate the "perfect coquito recipe".
DIVERSITY
Christmas is widely celebrated on the island, but Hanukkah is also celebrated and cherished in the Puerto Rican Jewish community. For example, there are traditional Puerto Rican Hanukkah dishes such as Fish with Mojo Isleño, which is usually a snapper seasoned with a specialty sauce of onions, garlic, peppers, and red wine vinegar.
Learn more about Puerto Rico and check out some of our tours by visiting https://www.vamonostours.com/destination/puerto-rico/ .
---
Related Articles
---