Puerto Rico Earthquake Update #4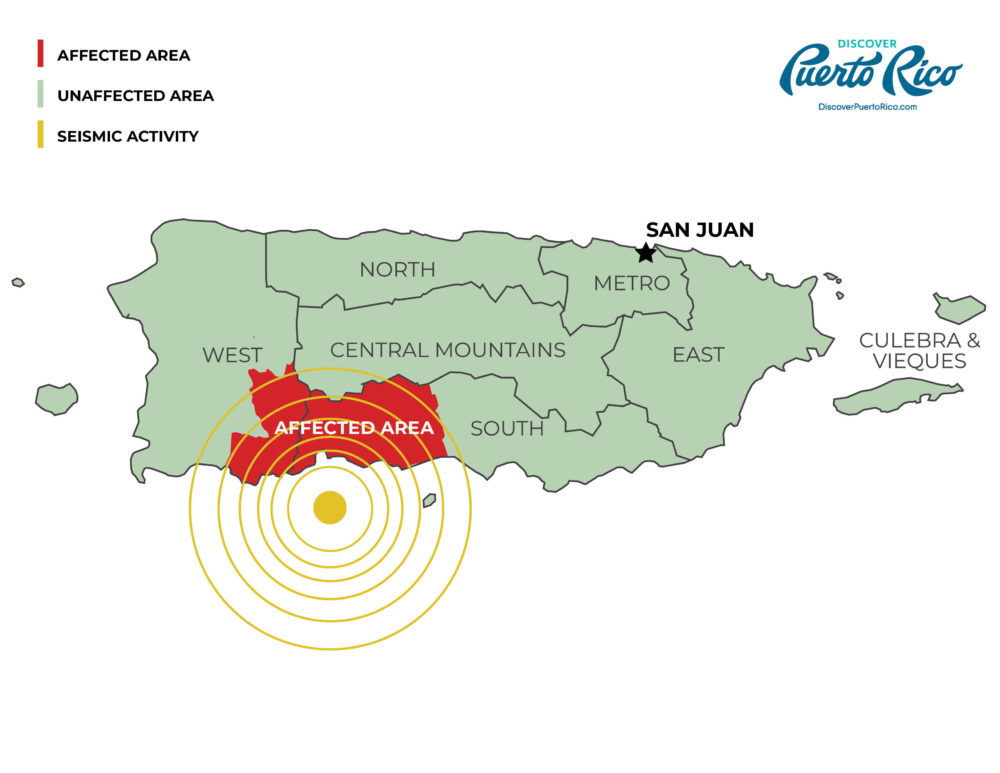 January 10, 2020
Thank you again for your support.  Below is a list of encouraging facts about the island's recovery as of 2PM today:
Power – Electricity continues to be restored to most of the population. We've heard that most of our staff (90%), including those in the south, already have power.
Points of entry/exit – The SJU International Airport, the San Juan Cruise Port, the Ponce Cruise Port and Airport, the Puerto Rico Convention Center, attractions and hotels in northern Puerto Rico, including areas around San Juan, are open and fully functional.
No alerts/warnings – The U.S. Geological Service has advised that there is no tsunami threat to the Island at this time. The Puerto Rico Seismic Network states that there are no warnings, advisories, or watches for the island. Airlines have stopped their travel warnings.
As stated by Discover Puerto Rico, "Puerto Rico is open for tourism. This week alone we welcomed nearly 56,000 cruise passengers into our San Juan Port. Power in Old San Juan has been fully restored and progress is being made across the Island. All major hotels are business as usual. All flights are operating normally to/from the San Juan Luis Muñoz Marin, Ponce and Aguadilla airports. Taxis and ride share options are also available. The Ponce Cruise Port, the Puerto Rico Convention Center, and major attractions such as El Morro, El Yunque, San Cristobal Fort, including all areas around San Juan, continue to be open for business. Our beaches, natural attractions, restaurants and travel service providers are ready to share Puerto Rico's unique culture and warm hospitality with travelers. For the latest information and travel updates, visit DiscoverPuertoRico.com.
Today, we are aware of numerous tourism businesses and hotels that remain open even in the South region. The Discover Puerto Rico map below illustrates the recent impact. Our beaches, restaurants, attractions, hotels and travel service providers are ready to share Puerto Rico's unique culture and warm hospitality with you and your family and friends. Below you will find a link with Frequently Asked Questions (FAQ) surrounding recent activity on the island.
2020 Puerto Rico booked groups with Vamonos:
Our number one priority is to always keep our groups safe and together. We take things like hurricanes and earthquakes very seriously and monitor these situations very closely. We will not travel to areas without power or any areas with unsafe structures.
The U.S. Geological Service, U.S. Department of State, and CDC have not issued any travel warning or advisory for Puerto Rico. Airlines have lifted their travel warnings. All of our partners, vendors, and hotels are fully operational and open for service. We see no evidence of the destination being uninhabitable or of force majeure.
According to this evidence, we will not cancel or postpone any group departing after February 1st, 2020. We are confident that Puerto Rico is ready for safe student travel. However, we are open to tweaking the itinerary to avoid some of the areas in the south if desired.
If groups would like to change their destination, we will do that and apply all funds paid towards the new destination at no penalty. Cancellation will be subject to our terms and conditions. We will, however, give travelers that choose to cancel the option to apply any unrefunded money to a future trip.
Thank you for your support and care. Visitors can be reassured that authorities are doing everything possible to ensure safety and minimize disruption to travel plans in the region. For further information, contact your client relations representative or email us at: info@vamonostours.com
Sincerely,
Jorge Pardo
President, Vamonos Tours Inc.
888.366.6121
---
Related Articles
---