Vamonos' 7 Steps for Student Travel After COVID19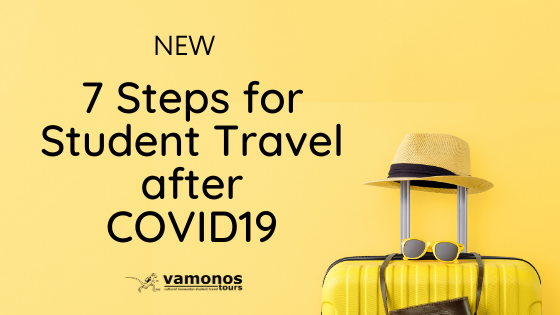 May 4, 2020
Can't wait for a 2021 school trip but have questions about Covid19? Are you planning a 2021-22 trip? Here are a few steps to consider before reserving a trip:
Industry Standards: Make sure your tour operator has strong credentials and is associated with strict membership travel and student associations such as SYTA, NTA, and others. Check certifications and alliances; make sure they follow Covid19 safety and health standards.
In Case of Emergencies: Verify company's emergency and safety procedures. Make sure the tour operator can support you in case of an emergency while traveling. It is essential to know the tools and speed in which a company can react to an emergency. Asking for real and recent references could save you a lot of work.
Hygiene Standards: It is crucial that your tour operator, as well as hotels, buses, venues, and staff are strict on hygiene standards. They should follow WHO, CDC, and SYTA standards of tour operations.
Open-air policy: If weather and location allow for it, choose companies that offer an open-air policy with plenty of outdoor events. For example, request to dine outside, encourage hiking and ways to avoid the coach bus if at all possible (walk, bike, etc.).
Water: Staying hydrated is one of the best ways to stay healthy and full of energy while on tour. Make sure your tour operator provides filtered water as often as possible daily. Travelers should refill their own water bottles at least twice daily.
Travel insurance: After COVID19, many travel insurance companies have changed their policies. Before you commit to purchasing any policy, do your research and ask the insurance company about coverage.
Monitor your Health: Before traveling, if you have any pre-existing condition, visit your primary care physician. Plan ahead as you verify the itinerary and consider the environment you will be exposed to while on tour (indoors, outdoors, tropical weather, etc.).
Vamonos is re-creating each destination's itineraries in order for them to be as safe as possible for our post Covid19 travelers. We have also created ViVamonos, a virtual live experience for group leaders, travelers, and beyond. Through this platform, we'll provide live virtual chats, workshops, and experiences. Stay tuned for more information on this soon.
---
Related Articles
---