Fantastic Mr. Franklin Tour: 1 Day
HIGHLIGHTS: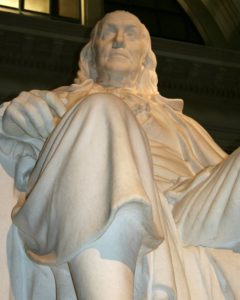 Learn about all of Benjamin Franklin's accomplishments. Hint: he did far more than discover electricity!
Visit Philly's oldest continuously inhabited street with houses built in the 1700s
Learn about "Franklin's Bucket Brigade"
Try an authentic Philly soft pretzel
Answer the important question "Wit or without?" for yourself
Embark on a ghost tour of Philly at night
One Day:
Meet your Tour Director, depart for Philadelphia
Visit the Benjamin Franklin Museum and learn about all the ways we benefit from his accomplishments today. He did more than just discover electricity and write an almanac!
Take a brief tour of Franklin Court and see where his house once stood.
Stroll down Elfreth's Alley with the oldest continuously inhabited houses in Philadelphia. They were built in the 1700s. Notice the fire insurance markers on the houses. These markers identify the houses that subscribed to the first fire insurance, started by Benjamin Franklin. He also started the first volunteer fire company nicknamed "Franklin's Bucket Brigade."
Visit Christ Church to see where this famous founding father is buried before heading to lunch.
Have lunch at iconic Reading Terminal Market. Don't forget to try an authentic Philly soft pretzel!
Visit the Franklin Institute and find out why this science museum bears his name. See more of Franklin's inventions and learn about the process he went through to discover electricity.
Nothing says Philly like a cheesesteak. Have dinner at a restaurant famous for its cheesesteaks and decide if you want it 'wit or witout.'
After dinner take the Spirits of '76 Ghost Tour and learn about the dancing statue of Benjamin Franklin in Library Hall!
Say goodbye to your tour director, board your bus and head home.
Are you a school local to Philadelphia looking to use your own buses? We can do that. Contact us to discuss the options. This tour can be conducted in Spanish or English.